Cannabis stocks are on the rise around the market today thanks to a slew of recent surveys suggesting that public perception towards the product is beginning to turn.
Three major national surveys (of Americans) now indicate that public support for cannabis legalization is widespread. In a story first reported by Vox, each of the three surveys, conducted by three different institutions, reported positive results.
First, the General Social Survey, conducted at the University of Chicago, reports that 61 percent of Americans are in favor of legalization. That number has nearly doubled from the 31 percent of supporters surveyed in 2000.
Second, Gallup reported a survey from October where 66 percent of respondents supported legalization. That's up from 50 percent within the decade, and more than doubled since Y2K.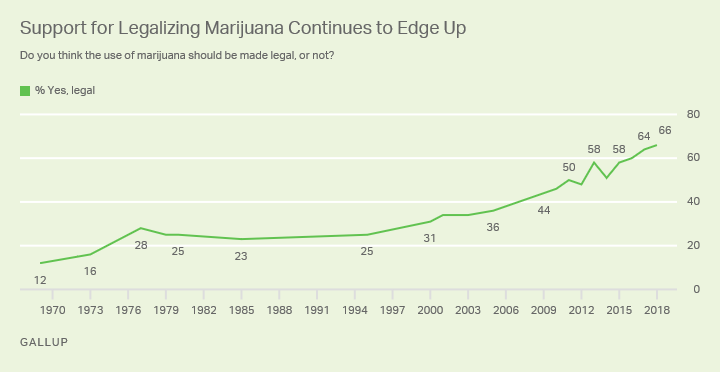 Finally, Pew chimed in with their own work, which shows similar results. They suggest 62 percent of respondents are now pro-legalization, up exactly double since the year 2000.
All of that has meant great things for Cannabis stocks today. Aurora Cannabis Inc. (NYSE:ACB), Cronos Group, Inc. (NASDAQ: CRON), and Canopy Growth Corp. (NYSE: CGC) all finished up on the day.
Obviously, legalization will continue to be the major issue defining the growth of the cannabis industry, as the ceiling of its growth is limited by the restrictions on its sale. With public sentiment turning this strongly towards widespread legalization, however, the future is bright for the sector.